The Anti-Harassment, Equality and Access Panel is a 501(c)(4) organization.
We are non-investigatory and non-partisan.
Mission Statement: The mission of the Anti-Harassment, Equality, and Access Panel is to engage our primary stakeholder, women who work in Illinois politics, to identify and help eliminate obstacles to their professional growth, including sexual harassment, and to elevate women into positions of leadership by providing recommendations to all political parties in Illinois that promote a culture of equity, safety, and respect for all.
The panel will put forth a set of recommendations intended to:
— Promote and support a culture of equality, safety and respect in Illinois politics free of sexual harassment.
— Improve the process for combating and reporting sexual harassment in Illinois political campaigns.
— Increase the number of women in leadership positions and those on track to leadership positions at all levels of Illinois politics by expanding access and tools for professional and leadership development.
— Facilitate more women running for office in Illinois by identifying and reducing structural obstacles that prevent them from doing so.
Comptroller Susana A. Mendoza
Susana A. Mendoza became the first Hispanic to ever run for and win a statewide elected office in Illinois as a Democrat. She was elected on a platform of prioritizing state payments to Illinois' most vulnerable residents and serving as a truth-telling fiscal watchdog.
Prior to her election as Illinois Comptroller, Susana was the first woman ever elected to the office of the Clerk of the City of Chicago. Before City Clerk, Susana proudly served six terms as a Democratic member of the Illinois House of Representatives from 2001 to 2011 during which period she also spent time as the co-chairwoman of the bi-partisan group, Conference of Women Legislators.
State Senator Melinda Bush
State Senator Melinda Bush began her first term as a member of the 98th General Assembly in January of 2013. In the Illinois Senate, Bush's passion for ethics & good government, economic development and the well-being of Lake County residents shines through in her work. Bush chairs the Senate's Government Reform Committee and Sexual Harassment Task Force. Bush also currently serves on the board of A Safe Place, a Lake County domestic violence shelter.
This past spring, Bush championed legislation to overhaul the Legislative Ethics Commission that will ensure sexual harassment complaints are reviewed more independently and with greater transparency.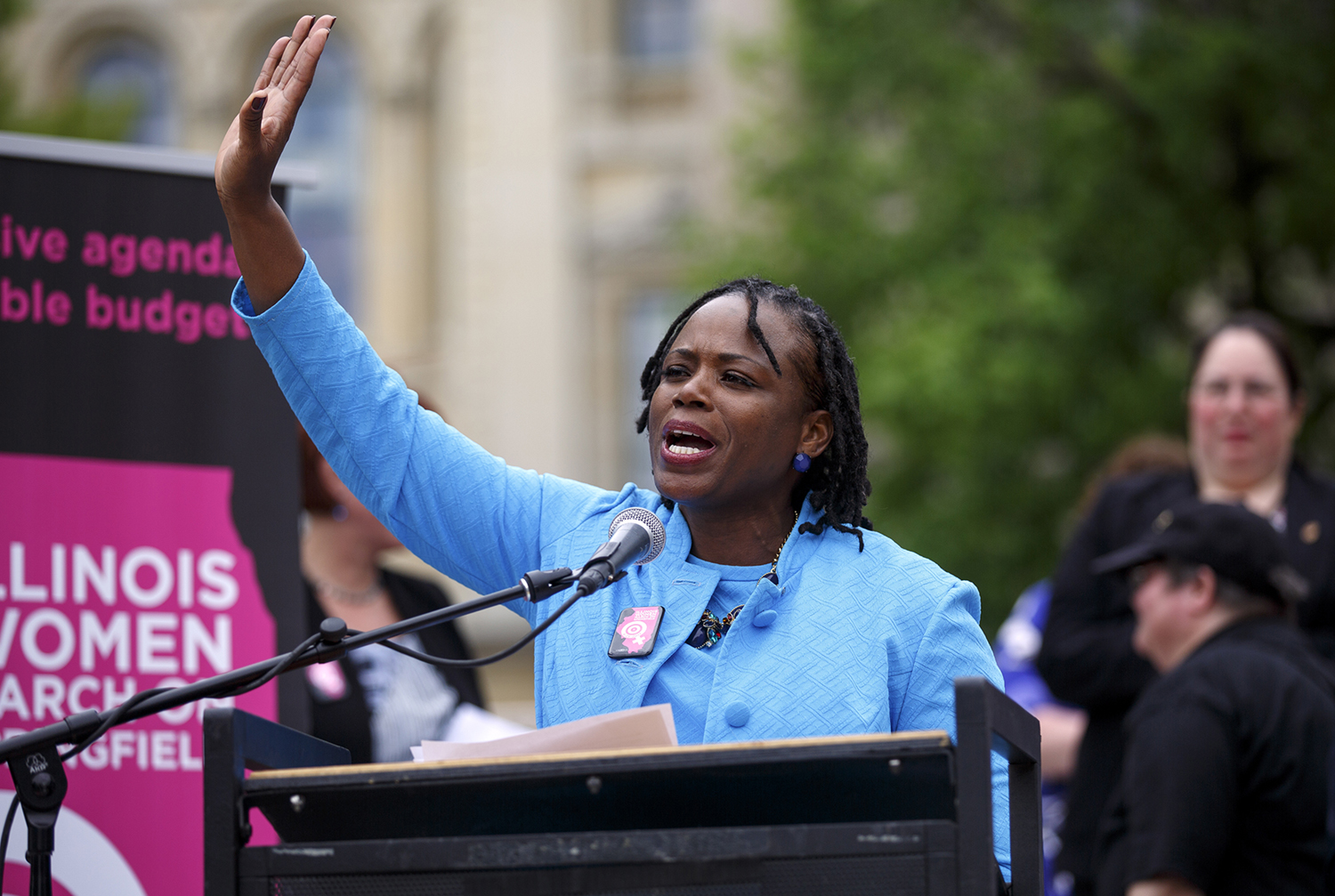 State Representative Carol Ammons
Carol Ammons has dedicated her life to public service as an organizer and advocate for the people of Illinois. She has a combined fourteen years of service in elected office, at the county level on the Champaign County Board, city level on the Urbana City Council, and now state level as state Representative for the 103rd district, which includes Champaign-Urbana.
Carol is the first African-American elected to represent the 103rd and will bring her experiences as a grassroots community organizer for equality in education, media, and technology access and civil rights to her work as a public servant in the House of Representatives.
Legal Counsel: Tina Tchen
Communications Director: Becky Carroll
Fundraiser: Katelynd Duncan
Panel Coordinator: Christie Lacey